International Relations
The development of international partnerships and networks is one of the strategic priorities of Toulouse Capitole University.

The level of internationalisation of Toulouse Capitole University is already significant, as demonstrated by the presence of 20% of international students within the student population, the creation of programmes in foreign languages, and several international research cooperations. UT Capitole's priority is to expand quality partnerships in the field of both research and training.

Students are offered many opportunities to study at one of our European or International partners. They indeed have a large choice in terms of academic subjects, academic levels and geographical locations. UT Capitole has also developed several double degrees with prestigious universities around the world.

Furthermore, the internationalisation of research is another aspect of the European and International strategy of UT Capitole. Specific actions are being led to promote the mobility of professors and visiting scholars, as well as that of doctoral students, especially through joint PhDs.

The mobility of administrative and technical staff is also a focus of our university, notably through the Erasmus+ programme.

Strongly open to the world, Toulouse Capitole University aims to internationalise education, knowledge and research.
Key figures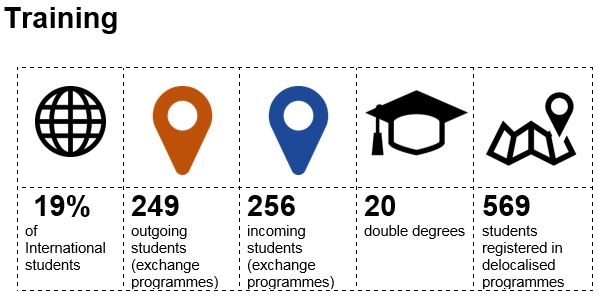 News

International Office
Erasmus + Charter