Accommodation
Are you looking for accommodation in Toulouse?

Looking for accommodation can sometimes seem complicated. Indeed, housing market in Toulouse is competitive and demand is often higher than supply. Even if this offers the advantage of a reduced notice period of one month, reactivity and anticipation will be two key assets in finding accommodation.

Here is some information that might be useful if you're looking for accommodation in Toulouse. You can also find all the housing guides and flyers in the links below.
Types of accommodation
Accommodation in the Crous residence
Accommodation in the private park
Flatsharing
Social accommodation
Homestay
Residences "Habitat Jeunes"
Information Platforms and Portals on Housing
Studapart
Cité Internationale - Université de Toulouse (CIUT)
Toul'Box - Pack Logement
Bienvéo
CRIJ Portal
Support for Disabled Dependent Students
Frequently Asked Questions
How much should I budget for rent?
The price of the rent varies according to the size and location of your accommodation. In Toulouse, plan between 350€ and 600€ for your accommodation.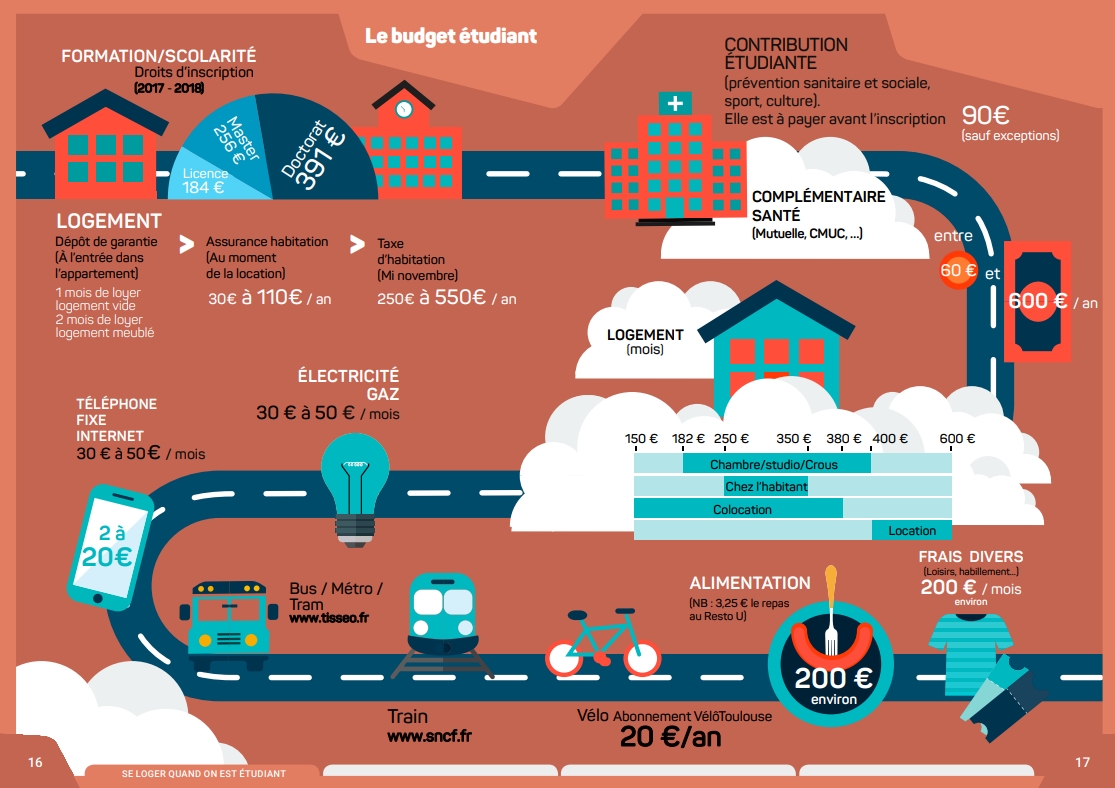 Click on the image to download it
Source: UFTMIP Housing Guide
Download it
⚠ Also take into account the additional charges and expenses you will have to pay. Please note that for some international students, there are different fees related to your registration at the University.
How do I choose my neighbourhood?
We advise you to live in a place close to the Faculty in which you are going to study. If you want to be at the heart of Toulouse's cultural activities, choose accommodation in the city center instead. Be careful, the cost of accommodation in the city center is nevertheless much more expensive.
Click on the image to download it
You also have to take into consideration the Toulouse metro lines. As the University Capitole is easily accessible by the Compans-Caffarelli stop (line B) and the Capitole stop (line A), feel free to choose a place close to these stops to save time.
.
Click on the image to download it
What is home insurance?
In France, home insurance is compulsory for all tenants. This contract covers the risks related to the rental of a property (claims, water damage, fire...).
The price of this insurance depends on the size of your accommodation, its location and the value of the insured goods. Feel free to compare prices (banks, insurance companies, online insurance).
The tenant has to justify this insurance certificate at the time of the handing over of the keys and at each renewal of the lease contract.
Do I need a guarantor?
A guarantor is a person who undertakes to pay the tenant's rent if the tenant is unable to meet his or her obligations. In France, many landlords or agencies require the tenant to have a guarantor.
For the CROUS accommodation, European guarantors are accepted.
What if I don't have a guarantor?
For Studapart accommodation (see paragraph "Platforms and portals "Housing Information""), the platform also allows you to be your guarantor. Cost: 50€ + (3.5% of the amount of your rent * number of months).
For private housing or CROUS housing, if you do not have a guarantor, you can call upon an organization that can act as guarantor for you : Visale (see paragraph "Post-accession assistance devices")
What is a lease and how does it work?
A lease is a rental agreement in which the owner (or agency) undertakes to rent a property to a tenant for a specified period of time.
Read more
If you wish, you can leave your accommodation before the date written on the lease. To do so, you must send your landlord a notice by registered letter with acknowledgement of receipt. The notice period can be from one to three months (one month in Toulouse).
Read more
In order for the lease to be committed, a deposit may be required from you. The deposit (also called a security deposit) is a amount of money paid by the tenant to the landlord (or the agency) when the lease is signed. This amount is returned to the tenant when she leaves the premises if the accommodation has not suffered any damage. The amount of the deposit varies but it is often equivalent to one or two months' rent.
Post-Accession Support Devices
Locapass
LOCA-PASS
is an assistance device which helps you finance the security deposit of your accommodation.
Visale
When you rent accommodation in France, you might have to get a guarantor (who is often a member of your family or friends).
If you do not have any guarantor, Visale can take on this role for a period of 3 years, active for a maximum rent of 1200€ (including charges).

⚠ Visale is not a home insurance. You have to take a home insurance for your accommodation.
PASS-LOG
The
PASS-LOG
is an assistance device that helps students pay for their first month's rent.
CAF
CAF (Caisse d'allocations familiales) is a public organization which provides financial support. Students can receive some help to pay for their rent by applying to the « personalised housing assistance » (APL) and the « social housing allowance » (ALS). These two financial schemes are granted on the basis of social criteria.
Apply here
⚠ TThe application must be submitted within the first two months of your move.
⚠ It takes between two and three months to obtain this financial support.
⚠ You will not receive any assistance for the first month of rental.