Mikael Akimowicz received a European Marie Curie scholarship

from January 28, 2014 to February 28, 2014
Mikael Akimowicz has just been granted a European Marie Curie scholarship for a French-Canadian comparative research project. Its goal: facilitate the emergence of an adapted type of peri-urban agriculture.
A new peri-urban agriculture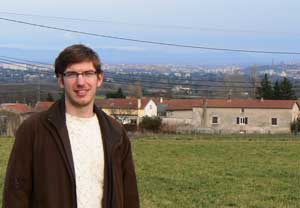 In December 2013, Mikael Akimowicz, an agronomist and a UT1 PhD in Economics, was awarded an « International Outgoing Fellowship »
Marie Curie scholarship
, granted every year by the European Union to support far-reaching research projects. Last year, only 19 French researchers were awarded the grant (success rate of 12.5%). His project ranked first in the field of Economics. Mikael Akimowicz wrote his thesis within the Studies and Research laboratory in Economics, Policies and Social Systems (
LEREPS
). His research work mainly focuses on « peri-urban » agriculture, in other words agriculture in the vicinity of towns with a view to find solutions to the following questions: how can this type of agriculture meet the new food demand in short supply chains?, how does it fit in when the waste it produces causes environmental hazards ?, what changes should it undergo in a context of increasing land prices while the sustainability of the farms is not ensured ?.
For his thesis, Mikael Akimowicz has particularly studied the evolution of agricultural practices in the Lauragais region in the vicinity of Toulouse. Thanks to the Marie Curie grant, he will develop his research work by adding three years of comparative studies at the Faculty of Landscaping and Rural Development (SEDRD) of Guelph University and at LEREPS, in order to analyze the impact of the protected « greenbelt » around the city of Toronto; the Ontario farmers within this area are guaranteed no eviction whatever the urban development. This European research project will be carried out under the joint supervision of Charilaos Kephaliacos, director of LEREPS, and Harry Cummings and Karen Landman, both SEDRD researchers.
Updated on the February 19, 2014