Mental health on university campuses: problems, situations and current challenges. International seminar organised in partnership with UT2J, FIU (Miami) and IDETCOM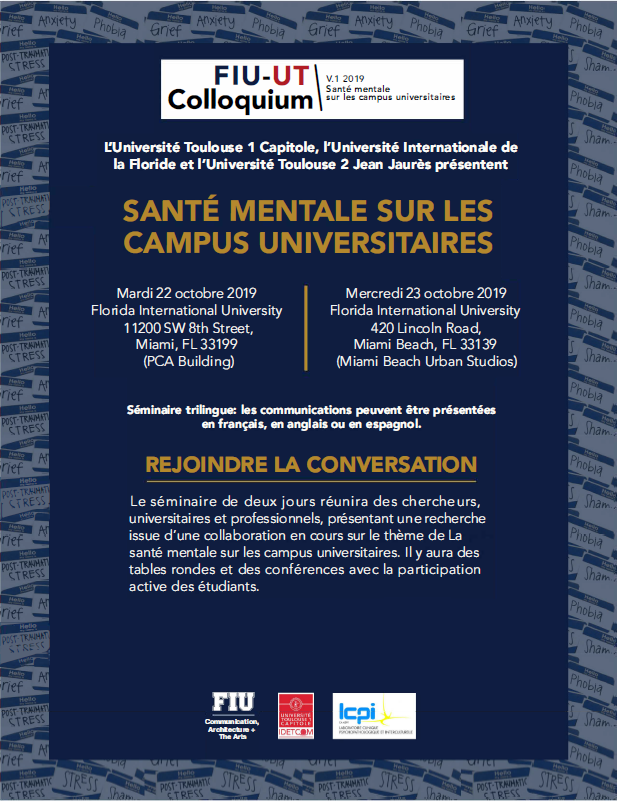 on the October 22, 2019
October 22nd and 23rd, 2019 in Miami

This seminar is organised by a working group belonging to Toulouse 1 Capitole University (UT1C - France), Toulouse 2 Jean Jaurès University (UT2J - France) and the Florida International University (FIU - USA). It will be held from 22-23 October 2019 at the FIU in Miami.
This seminar is part of an annual cycle of 'Mental health on university campuses' which will first be held alternatively in Toulouse and Miami, and subsequently in Buenos Aires.

The seminar takes place over two days and is open to the public. Academic and professional meetings will take place on the first day, followed, on the second day, by round table discussions and focus groups with primary participation expected from students. Exchanges may be in French, English or Spanish.

The event gathers together diverse participants with different perspectives in order to have a rich and varied discussion on such a complex subject. As a multidisciplinary seminar, many topics are on the agenda. It includes works on specific issues as well as general approaches in research and assessment, theory and the development of support models.
Updated on the July 16, 2019