"Public Regulation of Tumor Banks" collective publication Autor : Xavier Bioy IMH Contribution of Nathalie De Grove-Valdeyron, IRDEIC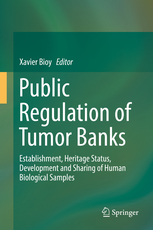 This contribution is intended to examine the way in which the policy of the European Union promotes the development of research infrastructures devoted to biobanks, which includes tumor banks and to assess if the current legal framework in which they operate at European level is adapted to allow the development of tumor collections
The multidisciplinary book assesses the legal and economic uncertainties surrounding the collection, storage, provision and economic development of biological samples (tumors, tissues, cells) and associated personal data related to oncology. Public, partly public and private sector actors in the field of cancer care and research hold collections supported by significant public and social funding. Under certain conditions, particularly in the context of networking (sometimes promoted by public authorities), these collections can also represent major economic assets and scientific resources. However, this involves a number of issues and institutional constraints:
legal: the will of the source person; non-pecuniary damage; freedom to establish collections; competence in deciding on their use; legal frameworks for their distribution; desire for return on investment for public institutions, notably in terms of industrial and intellectual property.
economic: cost of establishing and running biological resource centres; destroying resources; emerging markets; profit sharing.
public health policy choices: prioritisation of therapeutic measures over research (fundamental or clinical trials); conservation of resources; promotion of scientific (and not commercial) value of collections.
The establishment, heritage recognition ("patrimonialisation"), development and sharing of these resources thus merit our calling into question present practices and their evolution, as well as the leverage available to public authorities (incentives, legislation, regulation) in a context where norms emerge from professional practice to become widely used in collaborative networks.
Filling a gap in the current literature on law and economics, which pays little heed to these specific considerations, this book explores these considerations to bring to light the economic implications of ethical choices and governance issues in the health sector (structural organisation of local, national and European actors in oncology).
It is intended for researchers in fields such as law, economics and biomedical sciences, as well as for public policymakers.
Partners :
Informations :
Autor
:
Xavier Bioy
Editor
: Springer International Publishing AG
Edition
: 1st ed. 2018 (22 octobre 2018)
Language
: English
ISBN -10
978-3-319-90563-1
ISBN-13
: 978-3319905624
15,6 x 1,4 x 23,4 cm 223 pages
About this book
Contact :
Updated on the January 7, 2020