"U.S. Contract Law / Contracts, Negotiating, Drafting", lecture by Nicole and Robert Webster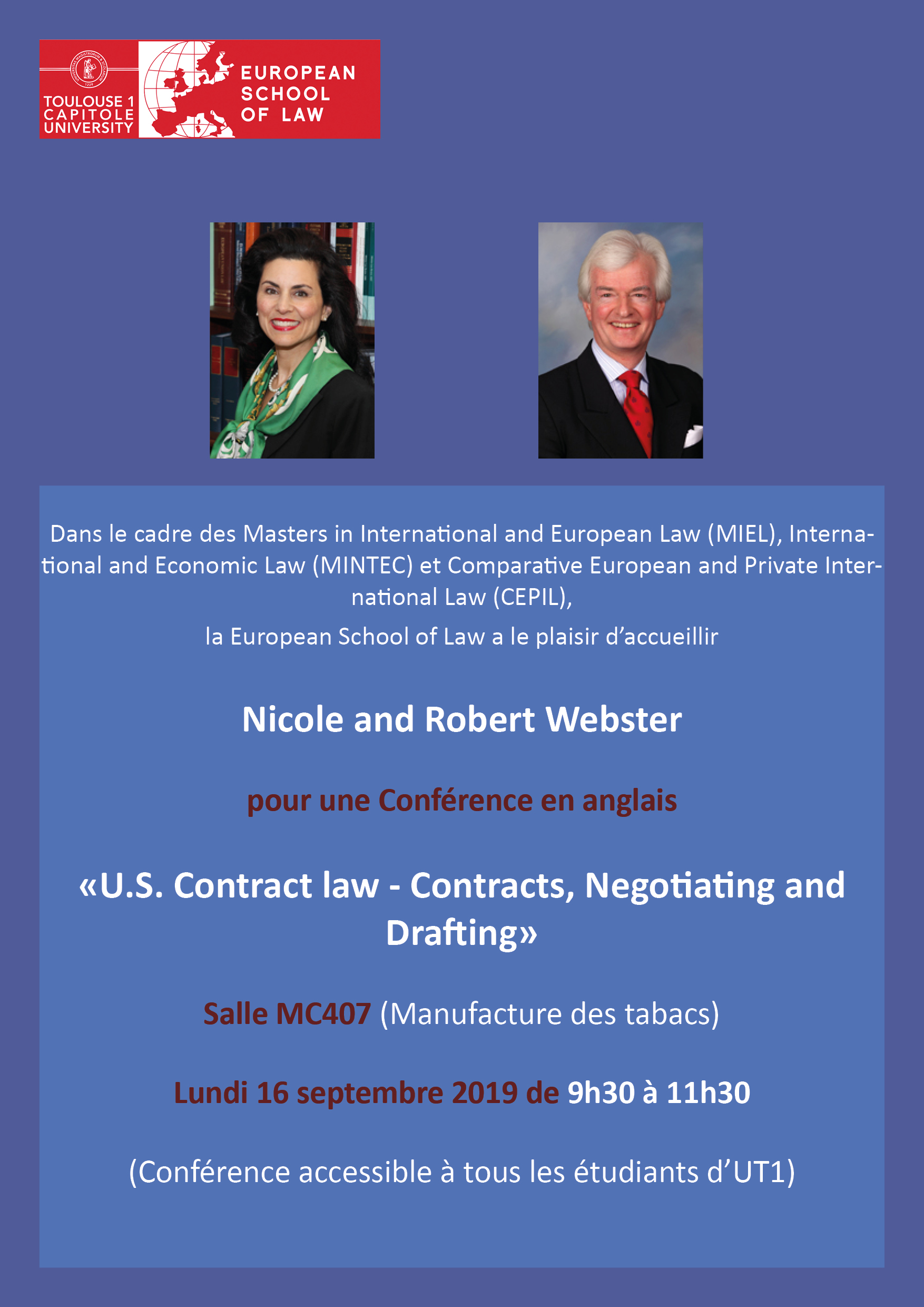 on the September 16, 2019
Monday 16, september from 9:30 am to 11:30 am
Room MC407 (Manufacture des tabacs)
Invited by the European School of Law, Nicole and Robert Webster, University of Southern California professors, will give a lecture in English about "U.S. Contract Law / Contracts, Negotiating, Drafting" (lecture in English and opened to all).
Nicole D. WEBSTER is a Former Special Assistant to the United States Secretary of the Interior and the first American Marshal (Law Clerk) in England's High Court of Justice, She has represented clients in both litigation, in state and federal court, and transactional matters, principally for real property and related areas of the law. Webster teaches Legal Profession, Introduction to the U.S. Legal System, Presentation Skills for International Lawyers, and U.S. Common Law Analysis and Skills in the LLM program at USC Gould School of Law.

Concentrating on federal regulations, legislation and policy, N. Webster worked in the United States capital—in the U.S. Departments of the Interior, Energy, and Housing and Urban Development—and in the State of California's Washington, D.C. Office on federal environmental and energy issues impacting California. She thereafter joined a noted international think tank, where she focused on the environmental, energy, trade and business arenas.

She clerked in the United States District Court, after receiving her BA from University of California Los Angeles (UCLA), and JD from the University of the Pacific, McGeorge School of Law, upon her admission to the California Bar. She clerked as well in the High Court of England and Wales. She subsequently served in the Los Angeles County District Attorney's Office, in the Major Crimes Division and latterly in the Environmental Crimes Division. Webster further is a member of the District of Columbia Bar.

A public speaker and author, Webster enjoys teaching, writing and guest speaking regarding public policy and government, real property, international and cultural property law and associated topics, in both the public and private sectors. Active in her community, she has participated as a member or officer of numerous legal advisory boards and organizations and recently was elected a member of the Fellows of the American Bar Foundation

Robert M. WEBSTER is an English Barrister. Following his education in England and France, he was Called to the Bar by the Honourable Society of the Inner Temple and was awarded both the Queen's Silver Jubilee Scholarship and a Duke of Edinburgh Award by his Inn. He began his career by serving as Marshal (Law Clerk) to Sir Joseph Donaldson Cantley, O.B.E. – one of England's most celebrated High Court Judges.

Webster has combined practice with an academic career that began at London's Inns of Court School of Law (now The City Law School) where he was particularly notable for introducing tailor-made skills training programs for overseas students. He has taught and lectured worldwide and has contributed to textbooks on both Criminal and Civil Litigation – having acquired extensive trial experience during his career.

He has advised an international clientele on matters relating to European Union Law and Media Law and delivered numerous MCLE lectures to Bar Associations.

He was named Professor of the Year four times since 2014 by Whittier Law School's student body and Alumni Association – having spent the last decade there teaching a rich variety of domestic and international subjects including Criminal Law, Criminal Procedure, Business Associations, Entertainment Law and Gifts, Wills and Trusts, International Law, International Human Rights, International Business Negotiations and European Union Law while also serving as the Director of the School's Center for International and Comparative Law and more latterly as Director of International Development.

He has considerable experience of developing innovative and popular international study programs in Europe - the latest being a Summer Entertainment Law Institute conducted in concert with the University of Barcelona.
Webster has taught at a number of Law Schools including Boston University School of Law - where he served as a member of its Adjunct Faculty - and the University of California at Irvine where he was a visiting professor.
He is a regular contributor to the media on British and European affairs and "all things royal"!
He maintains an active relationship with his London chambers.
The European School of Law is honored to welcome both of them for this lecture.
Updated on the April 12, 2021