Welcome Forum 2015

from September 8, 2015 to September 10, 2015
From 9am to 5pm

<Unknown label>
Arsenal - Grand Hall and Cloister Gardens

Welcome to Toulouse Capitole Université ! Come and join us to get familiar with your new study and student's life environment.
25 stands, associations and partners to our establishment will attend to you during 3 full days so that you can discover what your future student's journey will be!


To guide and support your academic and extracurricular activities:

The Registrar's Office deals with all the academic matter: administrative procedures, time-tables, scholarships, access to the UT1 Handicap service dedicated to disabled students;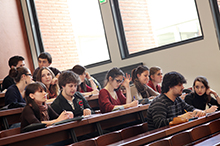 Comprehensive facilities and documentation resources are made available to you in all the university libraries;
The International Relations Office organizes all the students' mobility programs you are entitled to;
The Faculty of Law covers the full spectrum of legal studies and preparatory courses to competitive examinations;
Making your life on the campus easy thanks to:

The 50 or so students' unions acting on the campus and fostering a broad spectrum of cultural and sports activities, volunteering or trade-union initiatives in order for you to make the most of your academic stay in Toulouse.

Enjoying your stay in Toulouse thanks to: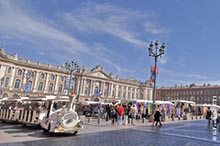 The University of Toulouse which boasts many inter-university tools to optimize your academic experience;

The Regional Student's Social Services providing numerous catering and accommodation offers;

The Youth Information Regional Centre extending many opportunities for you to grasp in order to enhance your student's experience;

Complementary insurance schemes (LMDE, Vittavi) that can be subscribed to ensure a better health cover

The City of Toulouse far-reaching services and the public transport facilities (Tisséo) to enjoy moving around smoothly without having to worry about parking your car…
Updated on the August 31, 2015