Christian Gollier at the Collège de France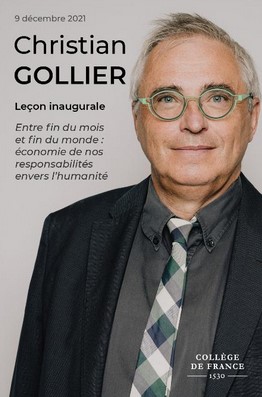 from January 5, 2022 to February 23, 2022
Collège de France, 11, place Marcelin-Berthelot -Paris
"Entre fin du mois et fin du monde: économie de nos responsabilités envers l'humanité" Opening Lecture by Christian Gollier at the College de France on December 9th
For the year 2021-2022,
Christian Gollier
, TSE Director, is invited to the annual chair Avenir Commun Durable - His lectures and seminars entitled "End of the month and end of the world: how to reconcile economy and ecology?" started in January 2022.
Watch courses (in french)
Watch le lecture (in french)
Les générations futures vont subir un changement climatique dont l'intensité dépendra des sacrifices que nous consentirons pour affronter nos responsabilités. Le temps est à l'action ! Certes, mais devant la myriade d'actions pour le climat, quelles sont celles qu'il faudrait rationnellement mettre en œuvre, à quel coût, à quelle intensité, et quand ? S'il est manifeste que nous avons jusqu'à présent privilégié « la fin du mois », jusqu'où aller dans le renforcement de la prise en compte des impacts de très long terme de nos efforts, et de leur soutenabilité ? Jusqu'où aller dans notre confiance dans la croissance économique et scientifique pour résoudre nos maux cumulatifs ? Lors de cette séance inaugurale de la chaire Avenir Commun Durable, je chercherai à répondre à ces questions en discutant deux outils opérationnels qui déterminent les actions pour le climat qui seront, ou ne seront pas, mis en œuvre : le taux d'actualisation et la valeur du carbone.
Updated on January 27, 2022