"Bankruptcy Asset Sales and Competition Policy", CDA - CREDIF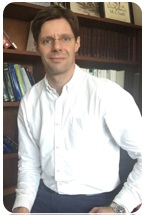 on the October 29, 2019
From 5:30pm to 7pm

MC407
Professor Huffman will discuss his work on competition policy implications of the sale of assets, or firms, in the course of bankruptcy proceedings. This presentation will include a discussion of the asset sale procedure in US bankruptcy law, the perceived benefits of this procedure, and the arguments that asset sales may be "sub rosa" plans of reorganization that subvert the process for business bankruptcies. Huffman will then discuss the concerns from the perspective of competition policy and the limitations of bankruptcy procedures in giving full effect to competition concerns.
Max Huffman is Professor of Law and Director of Online Programs at the Indiana University McKinney School of Law. He teaches Antitrust, Comparative and International Competition Law, Consumer Law, Commercial Law and Bankruptcy. As a member of the IU McKinney School of Law Faculty he has won the Faculty Leadership Award and three teaching awards.

Professor Huffman is a regular teacher and lecturer at universities around the globe, including recent classes in US Consumer Law (National Economic University – University of Economics and Law, Ho Chi Minh City, Vietnam (2018), and Hanoi Open University, Hanoi, Vietnam (2019)); Comparative Competition Law (American University of Central Asia, Bishkek, Kyrgyzstan (2019)); US Competition Law (Pazmany Peter Catholic University, Budapest, Hungary (2018)). He has presented research by invitation at leading universities and international fora, including recent presentations at Renmin University School of Law, Beijing, China (2018), China University of Political Science and Law, Beijing, China (2018), Shanghai Jiao Tong University, Shanghai, China (2018), and the Organization for Economic Cooperation and Development Competition Law Forum (2018).
Professor Huffman is an Order of the Coif graduate of the University of Cincinnati College of Law and earned his undergraduate degree in mathematics at Cornell University. Before returning to the academy, Professor Huffman was in private practice; was a trial attorney with the Antitrust Division of the U.S. Department of Justice and a Special Assistant United States Attorney (criminal); and clerked for Judge Stephen Trott on the U.S. Court of Appeals for the Ninth Circuit.
Updated on the October 25, 2019